Genre: Horror
Stories
Characters:
None
Sunset Shimmer just got to the hoomyn world and needs a place to stay. The obvious solution is to murder the other her and take her place. Underage-futa-murder-rape ensues.

This is a prequel to Sunset for Twilight.

Contains: anal, deep-throat, digging your own grave, futa, getting off on despair, implied deserving it, loli, necrophilia, normal high-school girl activities, obvious lies, poor self-esteem, rape, selfcest, snuff, underage, vaginal
Characters:
Mane 6
,
Original Character(s)
,
Princess Celestia
,
Princess Luna
,
Spike
Follow Twilight and the others through Ponyville on a journey to not only escape, but to survive, the hellish events plaguing the town. What lies beneath the surface of the issue and just how deep does it go? It's up to them to either find out or die trying...
Characters:
Mane 6
,
Original Character(s)
Sunset Shimmer hasn't been sleeping well lately. She doesn't remember her dreams very well when she wakes, but what she does remember is always the same.
She's back in Equestria. Only Equestria is very different from how she left it. The Palace is deserted. The land is a bizarre, twisted, candy coated version of what she remembers. The night never seems to end. And there's something in the dark... Something that laughs and sings, but it's somehow more frightening than the bizarre landscape ever could be.
When Sunset is awake, it's the start of a new year at CHS. The Fall Formal is just around the corner, but she has other things on her mind. Will she discover the truth about her dreams? Or will Halloween bring with it tricks and treats that make her Nightmare Night memories seem pleasant by comparison?
Characters:
Mane 6
,
Mr. Cake
,
Mrs. Cake
,
Pinkie Pie
,
Pound Cake
,
Pumpkin Cake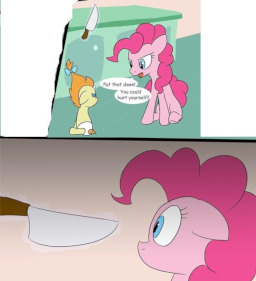 This is a story I created based on a hillarious, yet creepy comic by Loceri; nobody created anything based on this yet, so I just had to do it.
See what happens when a young toddler filly develops a 2nd personality hidden within her when at her breaking point.
This is part 1 of a 4-part story of Pumpkin's struggles
Characters:
Princess Celestia
,
Princess Luna
A gruesome holiday tale with a peppermint twist. In the ancient lands where the three pony tribes once lived the Windigo's magic has locked the weather in an eternal winter storm. Two little foals, who have lost their way, seek to find food and shelter in the deep dark woods. What they take for their only hope for survival may in fact spell their doom.
Meanwhile, it's the first official Hearth's Warming Eve in Canterlot, but something is wrong in the fledgling capital of Equestria. Can Starswirl the Bearded come up with a plan to set things right?
This candy coated horror will warm your heart and chill your spine.
Characters:
Big Macintosh
,
Fluttershy
,
Princess Celestia
,
Princess Luna
,
Rainbow Dash
,
Royal Guards
,
Shining Armor
,
The Great and Powerful Trixie
,
Zecora
After the strange disappearance of everypony in Ponyville and half the population of Canterlot, the citizens of Equestria live in fear and uncertainty. A year passes and while Celestia tries to once again shoulder the responsibilities of the crown without her sister Luna by her side, the investigations into what happened and why have born little fruit. Rainbow Dash, the weather pony of the now ruined Ponyville, may be the key to discovering at last what happened to Luna, her friends, and her town. And perhaps what exactly it is the Candy Mare wants.
Characters:
Original Character(s)
In Manehatten, a young, mediorce author works dillegently on a novel that may or may not ever be done while his roommate lives the life of a social butterfly. Metro Quill isn't happy, but he isn't sad either. It can't be that bad, what are the odds he has it worst off in Equestria? However, when Flux, his roommate brings a young foal home, things go wrong. He begins experiencing strange phenomenon... and that appears to be just the beginning.