Status: In Progress
Stories
Characters:
Mane 6
,
Mr. Cake
,
Mrs. Cake
,
Pinkie Pie
,
Pound Cake
,
Pumpkin Cake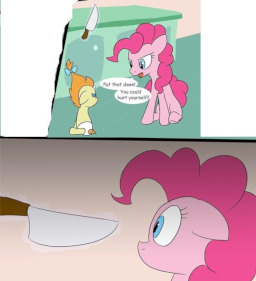 This is a story I created based on a hillarious, yet creepy comic by Loceri; nobody created anything based on this yet, so I just had to do it.
See what happens when a young toddler filly develops a 2nd personality hidden within her when at her breaking point.
This is part 1 of a 4-part story of Pumpkin's struggles
Characters:
Discord
,
Original Character(s)
,
Princess Celestia
,
Princess Luna
,
Royal Guards
,
Shining Armor
,
Spike
,
Twilight Sparkle
Midnight Rose Sparkle is celebrating her eighteenth birthday, also her tenth birthday without her mother, Twilight Sparkle. The day is dreary at best, until a good family friend, Discord, leads her to her mother's special, personal project. A hidden world within the pages of a book. Hoping her mother is inside, Midnight ventures into The Void to search for her long lost mother... and stop the evil within.
Characters:
Princess Celestia
,
Twilight Sparkle
Twilight Sparkle receives an invitation to Princess Celestia's throne room for some private chichat between teacher and student. All goes well until the princess begins to put Twilight through some intense magical training. Is Twilights' body ready for what the princess has in mind? A collection of sexual adventures with the hottest solar princess of Equestria.
Characters:
Apple Bloom
,
Scootaloo
,
Sweetie Belle
A collection of certain entries of the Foalcon Prompt Tag Collab on Fimfiction. These are explicit mini-fics featuring underaged human characters (mostly EQG), as those aren't allowed on Fimfiction (which will get "censored" non-explicit versions instead).
Whether it will be ever more than one remains to be seen
Content warning: Lolicon. Obviously. Also, Equestria Girls.
Characters:
Other BG Pony
,
Rarity
Just what it says in the title. There is no plot, not a big amount of effort, no pretending that the "main character" is anything else than a bland self-insert. It's pure indulgent wish-fulfillment. One-handed writing, if you so will.
It's sort of an experiment, if I could enjoy writing something like this. And I think I can, as long as it doesn't take too long. So, the chapters will be short, probably not very well-written and have minimum proof-reading. But at least, they don't overstay their welcome.
Obviously, this is written purely for myself and my fantasies of fucking several MLP characters. I'm not sure, if anyone else could enjoy it. If you do, I'd be curious to read why.
Due to the cheap and inherently worthless nature of this fic, it's unlikely that I will post it anywhere else.
Characters:
Original Character(s)
,
Princess Cadance
,
Princess Celestia
,
Princess Luna
Drift was not always an Autobot. Once fighting for the Decepticons, he defected to the Autobots when he found out the error of his ways. Abandoning the ways of the gun, he changed his name (Dreadlock) to Drift, and wielding the Great Sword that can destroy any target, at the cost of some energy drained from his spark.
After some time, he got killed along with Ratchet and Hound by a Con called Helex. Helex assumed he died, instead he was instead transported to a different world
Characters:
Original Character(s)
It was a dull Tuesday in December, and I had been suffering sleep-loss for the last week due to a constant portal-like noise from under my bed. Today, my BS meter was officially overflowed, so in a fit of annoyance, I flipped the mattress and bedspring on their side, and took a look at the source of the mysterious sounds. The portal was a spinning blue and white disk where my Sega Genesis and Nintendo 64 used to lay. I tried to look closer, then tripped on one of the crates under my bed, (Mental note: remember to fix those things) I fell face first into the hole and everything went black. The next thing i know I'm in the Canterlot Castle as a alicorn, I'm gonna have a problem.