Warnings: Torture
Stories
Characters:
None
Sunset Shimmer just got to the hoomyn world and needs a place to stay. The obvious solution is to murder the other her and take her place. Underage-futa-murder-rape ensues.

This is a prequel to Sunset for Twilight.

Contains: anal, deep-throat, digging your own grave, futa, getting off on despair, implied deserving it, loli, necrophilia, normal high-school girl activities, obvious lies, poor self-esteem, rape, selfcest, snuff, underage, vaginal
Characters:
Big Macintosh
,
Changelings
,
Cheerilee
,
Cutie Mark Crusaders
,
Derpy Hooves
,
Granny Smith
,
Mane 6
,
Mr. Cake
,
Mrs. Cake
,
Original Character(s)
,
Princess Celestia
,
Princess Luna
,
Royal Guards
,
Zecora
A retired veteran guard returns home after years away, determined to find peace and a quiet life. Fate, it seems, isnt feeling very accommodating.
Characters:
Princess Celestia
(This is alternate Chapter 53 of the story "Celestia's Relaxing Vacation". Most of the story is hosted at https://www.fimfiction.net/story/197090/celestias-relaxing-vacation, but since fimfiction doesn't allow stories involving underage humans, I had to make this one chapter elsewhere. If you want to read the entire fucked up story, you should start there.)
Characters:
Mane 6
,
Original Character(s)
Sunset Shimmer hasn't been sleeping well lately. She doesn't remember her dreams very well when she wakes, but what she does remember is always the same.
She's back in Equestria. Only Equestria is very different from how she left it. The Palace is deserted. The land is a bizarre, twisted, candy coated version of what she remembers. The night never seems to end. And there's something in the dark... Something that laughs and sings, but it's somehow more frightening than the bizarre landscape ever could be.
When Sunset is awake, it's the start of a new year at CHS. The Fall Formal is just around the corner, but she has other things on her mind. Will she discover the truth about her dreams? Or will Halloween bring with it tricks and treats that make her Nightmare Night memories seem pleasant by comparison?
Characters:
Mane 6
,
Mr. Cake
,
Mrs. Cake
,
Pinkie Pie
,
Pound Cake
,
Pumpkin Cake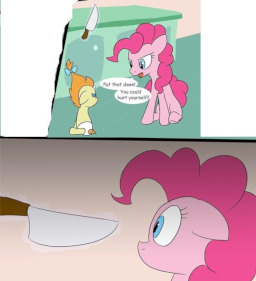 This is a story I created based on a hillarious, yet creepy comic by Loceri; nobody created anything based on this yet, so I just had to do it.
See what happens when a young toddler filly develops a 2nd personality hidden within her when at her breaking point.
This is part 1 of a 4-part story of Pumpkin's struggles
Characters:
Big Macintosh
,
Fluttershy
,
Princess Celestia
,
Princess Luna
,
Rainbow Dash
,
Royal Guards
,
Shining Armor
,
The Great and Powerful Trixie
,
Zecora
After the strange disappearance of everypony in Ponyville and half the population of Canterlot, the citizens of Equestria live in fear and uncertainty. A year passes and while Celestia tries to once again shoulder the responsibilities of the crown without her sister Luna by her side, the investigations into what happened and why have born little fruit. Rainbow Dash, the weather pony of the now ruined Ponyville, may be the key to discovering at last what happened to Luna, her friends, and her town. And perhaps what exactly it is the Candy Mare wants.
Characters:
Applejack
,
Big Macintosh
,
Changelings
,
Discord
,
Fluttershy
,
Mane 6
,
Original Character(s)
,
Pinkie Pie
,
Princess Cadance
,
Princess Celestia
,
Princess Luna
,
Queen Chrysalis
,
Rainbow Dash
,
Rarity
,
Shining Armor
,
Spike
,
The Great and Powerful Trixie
,
Twilight Sparkle
One day, a young boy gets transported from our world, to another one entirely. In this strange new world, he finds himself facing all kinds of dangers and obstacles. Not only that, but in his first few days, he finds himself falling for one pony in particular. NOTE: This is copyrighted to me and if you see any copies of this story out on the net, then it is not the orignial. I have only, and will only, upload this story to the pony fiction archive.
Characters:
Original Character(s)
Right, so this is a long overdue fic, along with being overly grimdark as *buy some apples*. It basically started in the PH forums, and escalated from there. Partially after I concluded there is far, faaar from enough rape done by females in PH, (along with FoE as a whole) along with a certain lack of terms that would likely exist in a ex-matriarchy world. Keep in mind this fic was started as soon as Psychoshy came in more or less. So going after her later completely altered and revamped personality will not work. There was at a point considerations to alter it to Brass, possibly Rampage (with some tweaks) or somepony else, but I gave a "meh" as I was already over 80 pages in production.
Anyhow, the base premise of the fic is similar to any FoE fic: We follow a character around as they do stuff. Here we follow Psychoshy around, a totally mentally stable pegasus from the Project Horizons spin-off, supposed offspring of Fluttershy, whom was conceived through an abusive relationship, and for all Fluttershy knows (as much as she could possibly know during her breakdown and brainwashing or whatnot) was that said fetus perished during a stress induced miscarriage. Which was a ruse, the fetus was more or less abducted, stasis pods, conspiracy and the like, then she was taken out and made ready to be used in sinister plots and raised by a crazy megalomaniac with to many crazy plans, and stuff happened. In either case, enough mostly accurate, somewhat serious background. Like said, we follow Psychoshy, the Reaper around on her daily routing of ... basically doing whatever she feels like.
->
Sadly, not too much is invested in the story here. So most chapters are just "slice of life" per say. There are references to PH here and there, and few to FoE. And quite a few random ones to pop culture, the fandom and what have you. I have however tried to make it as a "glimpse of character" or whatever it is called. Seeing things from another perspective. Along with "fleshing out" a hopefully, decently plausible character. One has to be willing to take a couple of things in mind to "accept" them as a functional character. (such as dropping our worlds societal norms, stereotypes and the like) But to those that can do that: I hope I managed to create a somewhat rich character at least. I tried to go beyond just a flat "me rape now" character. And while she certainly doesn't see things like the "average" person, I tried to add a bit more depth to her personality beyond just raping for rapes sake. I know this could have been a really interesting and unique story, but tbh, I really doubt I'm good enough to have pulled that off. So yeah, if you want to see my somewhat overall headcanon take on Psychoshy, want to read about peculiar, rare and generic cases of rape, with a partial focus on personality delving or what to call it. Then by all means, do try to enjoy this fic. Otherwise, if you dislike any of the topics, FoE, rape or whatnot, (or love the fully revamped, disassembled and card-boardified "Whisper") then I do not recommend that you read this, nor any upcoming chapter.
It is complete at around 125 pages long. So unlike other works, I will be splitting these up into more read-able chapters. As reading close to 75000 words is a tad bit long in one go. I can aim to at least hopefully release one "chapter" per month. Depending how my proofreading assistance works.
Anyhow, if you are interesting in reading more about a rather headcanon, overall "alpha" Psychoshy kicking and violating *other word for donkey*, then be my guest. I will list content in this, to as good as I can recall, so you can know what to expect. (all my stories will have this from now on. Got the idea after reading YET another piece of murloc excrement that "pretended"/seemed like it was something else. Didn't help that the author claimed it was a "serious" fic either, then only after being called on their lie made a incompetent excuse that then it apparently wasn't serious anymore. But in either case: This is both the longest and most violent piece I've written. I however couldn't manage to stick to sexism like promised, so this fic contains both f/m and f/f rape, and indications of other types. ( I know, I'll might get around to do a really stupid and generic role reversal fic sometime)