Canon: AU
Stories
Characters:
Gilda
,
Original Character(s)
Viewer Discretion is advised.
A short series I'll be writing about a sadistic Gryphon and a little colt engaging in all sorts of fun! Well, fun for her anyways...
WARNING! This fic will contain F/M Rape, Molestation, S&M, Underage characters, violence towards said characters, Forced Alcohol consumption, Shotacon, Strong Language, Cruelty/Bullying/DegradationIf these trigger you, definitely refrain from reading.
---
Gilda finds a new passion through a colt named Marron.
Though, it isn't exactly what you call 'family-friendly'....
(OOC: "Oc:Marrón" on Derpibooru. Yes, I am the guy who is his owner. Criticism is okay, don't backhand compliment or just say 'wow this is trash'. Questions and Suggestions are acceptable.)
Characters:
Original Character(s)
Starring Moon Haze and Oynx Bolt
What started as a simple little filly romance quickly turned into something more... sexual.
Characters:
Big Macintosh
,
Changelings
,
Cheerilee
,
Cutie Mark Crusaders
,
Derpy Hooves
,
Granny Smith
,
Mane 6
,
Mr. Cake
,
Mrs. Cake
,
Original Character(s)
,
Princess Celestia
,
Princess Luna
,
Royal Guards
,
Zecora
A retired veteran guard returns home after years away, determined to find peace and a quiet life. Fate, it seems, isnt feeling very accommodating.
Characters:
Mane 6
,
Original Character(s)
,
Princess Celestia
,
Princess Luna
,
Spike
Follow Twilight and the others through Ponyville on a journey to not only escape, but to survive, the hellish events plaguing the town. What lies beneath the surface of the issue and just how deep does it go? It's up to them to either find out or die trying...
Characters:
Princess Celestia
(This is alternate Chapter 53 of the story "Celestia's Relaxing Vacation". Most of the story is hosted at https://www.fimfiction.net/story/197090/celestias-relaxing-vacation, but since fimfiction doesn't allow stories involving underage humans, I had to make this one chapter elsewhere. If you want to read the entire fucked up story, you should start there.)
Characters:
Mane 6
,
Original Character(s)
Sunset Shimmer hasn't been sleeping well lately. She doesn't remember her dreams very well when she wakes, but what she does remember is always the same.
She's back in Equestria. Only Equestria is very different from how she left it. The Palace is deserted. The land is a bizarre, twisted, candy coated version of what she remembers. The night never seems to end. And there's something in the dark... Something that laughs and sings, but it's somehow more frightening than the bizarre landscape ever could be.
When Sunset is awake, it's the start of a new year at CHS. The Fall Formal is just around the corner, but she has other things on her mind. Will she discover the truth about her dreams? Or will Halloween bring with it tricks and treats that make her Nightmare Night memories seem pleasant by comparison?
Characters:
Mane 6
,
Mr. Cake
,
Mrs. Cake
,
Pinkie Pie
,
Pound Cake
,
Pumpkin Cake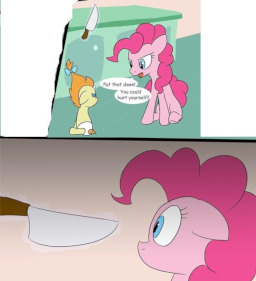 This is a story I created based on a hillarious, yet creepy comic by Loceri; nobody created anything based on this yet, so I just had to do it.
See what happens when a young toddler filly develops a 2nd personality hidden within her when at her breaking point.
This is part 1 of a 4-part story of Pumpkin's struggles
Characters:
Original Character(s)
,
Princess Cadance
,
Princess Celestia
,
Princess Luna
Drift was not always an Autobot. Once fighting for the Decepticons, he defected to the Autobots when he found out the error of his ways. Abandoning the ways of the gun, he changed his name (Dreadlock) to Drift, and wielding the Great Sword that can destroy any target, at the cost of some energy drained from his spark.
After some time, he got killed along with Ratchet and Hound by a Con called Helex. Helex assumed he died, instead he was instead transported to a different world
Characters:
Princess Celestia
,
Princess Luna
A gruesome holiday tale with a peppermint twist. In the ancient lands where the three pony tribes once lived the Windigo's magic has locked the weather in an eternal winter storm. Two little foals, who have lost their way, seek to find food and shelter in the deep dark woods. What they take for their only hope for survival may in fact spell their doom.
Meanwhile, it's the first official Hearth's Warming Eve in Canterlot, but something is wrong in the fledgling capital of Equestria. Can Starswirl the Bearded come up with a plan to set things right?
This candy coated horror will warm your heart and chill your spine.