Canon: S2
Stories
Characters:
Fluttershy
,
Sweetie Belle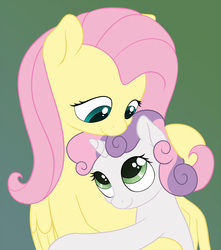 Living a day in each other's horseshoes was supposed to be a bonding experience. For a pair that shares almost a full generation gap, learning what each other feels and how their partner thinks should only help. Everything seemed to be going alright until the engaged couple finally made it to the bedroom. In their magically swapped state, Sweetie Belle may have every talent that her marefriend enjoys, but the filly may still have some trouble learning to deal with dark impulses that Fluttershy never fully explained to her.
Contains: [Foalcon] [Limited Magical Swapping & Regression] [Moderate S&M] [Suggested, Not Actual Scat Play]
Fallen Angels fans proceed with caution. This story is not canon within FA, and deals more forthrightly with certain fetishes not found in FA.
---
Thanks to ZippySqrl for the fantastic cover art as usual.
Also, thanks as usual to Setokaiva for editing.
Characters:
Apple Bloom
,
Applejack
,
Big Macintosh
,
Derpy Hooves
,
Fluttershy
,
Granny Smith
,
Mane 6
,
Mrs. Cake
,
Other BG Pony
,
Pinkie Pie
,
Rainbow Dash
,
Rarity
,
Twilight Sparkle
[MxF] [MxFxF] [MxMxF]
While out delivering presents with Santa on Christmas Eve, Rudolph somehow winds up crash-landing in the world of Equestria. He has no idea where he is or how he is going to get back home. Luckily for him, though, the ponies are all so friendly and welcoming, and they offer to do all they can to help him.
It's not often that deer visit Ponyville. A few of its residents have never even met a deer before, much less one who can fly and has a glowing red nose. Some of them seem a little eager to try out this new 'exotic cuisine' they've been given. In only a few short days amongst these curious mares, Rudolph is going to become a very lucky young reindeer.
Characters:
Princess Celestia
,
Twilight Sparkle
Twilight Sparkle receives an invitation to Princess Celestia's throne room for some private chichat between teacher and student. All goes well until the princess begins to put Twilight through some intense magical training. Is Twilights' body ready for what the princess has in mind? A collection of sexual adventures with the hottest solar princess of Equestria.
Characters:
Fluttershy
THIS STORY CONTAINS MILD SCAT EROTICISM
A certain pegasus spends a day with a new friend, but something goes horribly wrong. Fluttershy finds herself on the verge of messing herself outside the bathroom, occupied by her visitor.
Oh, and she wears underwear the entire time.
Characters:
Octavia
,
Vinyl Scratch
THIS STORY CONTAINS SOFTCORE SCAT EROTICISM!
Eager to leave for a concert, Octavia forgets to use the bathroom. Of course, this story being the kind of story it is, this soon comes back to bite her. Unknown to the audience - at least, not yet - Octavia suddenly finds herself desperately holding back her waste in the middle of the performance. Her body has given her an ultimatum in which only one thing can go down the metaphorical toilet - her stool, or her career.
Characters:
Princess Celestia
,
Princess Luna
A gruesome holiday tale with a peppermint twist. In the ancient lands where the three pony tribes once lived the Windigo's magic has locked the weather in an eternal winter storm. Two little foals, who have lost their way, seek to find food and shelter in the deep dark woods. What they take for their only hope for survival may in fact spell their doom.
Meanwhile, it's the first official Hearth's Warming Eve in Canterlot, but something is wrong in the fledgling capital of Equestria. Can Starswirl the Bearded come up with a plan to set things right?
This candy coated horror will warm your heart and chill your spine.
Characters:
Princess Luna
,
Shining Armor
*Ahem* Just a little something I was urged to throw together after noticing I'm the only one on this entire site, and seeming web to have written a equine (female) glory hole story xP Everyone else just does the human (male) version x3
Anyhow, summary wise: Shining Armor wants a little more in his life, his newly married wife proves to be a little less craving sexually than he'd hoped, so he's out to satisfy his itch by other means. Especially one he was given when Chrysalis decided to have a little fun with him...
So feel free to follow him as he ventures to the local glory hole in hopes of satisfying his cravings, and perhaps get to live out his gangbang fantasy.
Content: Glory holes (equine), cunnilingus, deepmuzzling/deepthroating (female), mild aheago, sub, excessive ejaculate, equine genitals, gangbang and da magicz.
Characters:
Original Character(s)
It was a dull Tuesday in December, and I had been suffering sleep-loss for the last week due to a constant portal-like noise from under my bed. Today, my BS meter was officially overflowed, so in a fit of annoyance, I flipped the mattress and bedspring on their side, and took a look at the source of the mysterious sounds. The portal was a spinning blue and white disk where my Sega Genesis and Nintendo 64 used to lay. I tried to look closer, then tripped on one of the crates under my bed, (Mental note: remember to fix those things) I fell face first into the hole and everything went black. The next thing i know I'm in the Canterlot Castle as a alicorn, I'm gonna have a problem.
Characters:
Pipsqueak
,
Scootaloo
,
Sweetie Belle
Trust. Acceptance. Understanding. These are important qualities Pipsqueak will need when he's about to engage in coitus with a Pegasus who's eager to make him her mare.
Don't worry, she'll be gentle. Her best friend will make sure of that.
Characters are of Carousing Age, given this fic is Anthro.